Last week, as per Rick Perry's request for a second special session, the anti-abortion legislature known as HB2 entered the Texas House to be approved by its committee after eight hours of testimony. This ruling allowed the to bill move forward into the Texas Senate yesterday, where it passed yet again with a vote of 19-11. Now, after weeks of rallying inspired by Wendy Davis's mighty filibuster, the bill only requires a signature from Gov. Perry in order to be signed into law, making Texas just one swift motion away from criminalizing abortions after 20 weeks and shutting down all but five abortion-providing clinics in the state.
During the hearing, which went on until just before midnight, Texas Democrats challenged HB2 by proposing 20 different amendments to the bill, including exceptions to the 20-week ban for rape and incest survivors, annual inspections of abortion facilities, granting Texas women equal pay so they may have a chance at supporting a family, and allowing teens who already have at least one child to be trusted enough to make family planning decisions without the state law's requirement of parental consent. All were tabled by Sen. Hegar, who sponsored the bill, on counts of germaneness.
In addition to banning abortion at 20 weeks, HB2 requires all abortions to be performed in an ambulatory surgical center, all abortion doctors must have admission privileges to such a center within 30 miles of the abortion clinic, and abortion-inducing medication must be delivered by a doctor in person. Of the 42 existing abortion providers in Texas, only five are able meet these stringent regulations. The remaining 37 can't afford to upgrade or relocate.
As before, the majority of coverage appeared via social media. Here's some of what Twitter helped us gather:
Consistent with prior hearings throughout this process, the Texas Capitol was packed with demonstrators and protestors adorned in their color-coded apparel to indicate which side of the bill they stood on–blue for, orange against.
Though the hearing fell short of June's bill-blocking filibusters, it was not without interruptions and outbursts. Intermittent shouts were heard from the gallery, particularly during Sen. Patrick's heavily religious praise of the bill which repeatedly asked the floor to consider "the baby" while insisting that the bill was in no way an attack on women's rights or bodies.
Four women tried to chain themselves to a gallery railing in protest. One activist from @RiseUpTX did so successfully, resulting in a 10-minute recess.
Security was tight last night–too tight–and the heated intensity present in the floor's debate spread throughout the Capitol. @AaronPena reported that several protesters were taken into custody, with some literally dragged out of the building.
Dozens of state troopers flooded the building in brutal attempts to reinstate order, but seemed only to produce the opposite. One protester was even pushed to the floor amid the chaos, suffering bloody injuries to the head.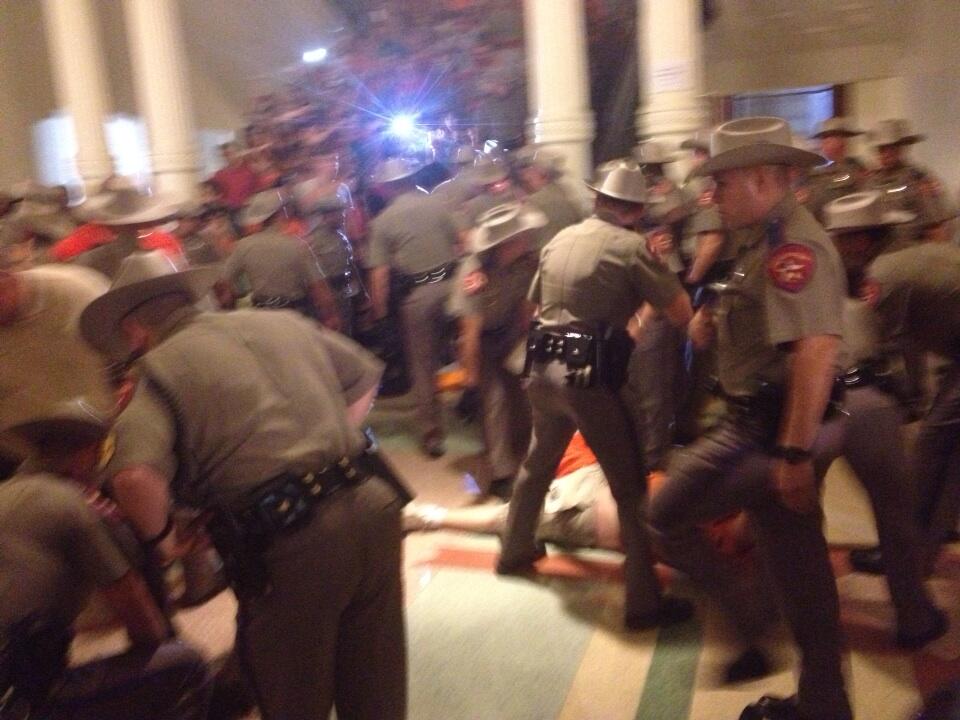 Perhaps one of the most profoundly absurd moments came about in what the state troopers decided to confiscate prior to the hearing: tampons.
Fearing that women would take to throwing pads and tampons at their state senators in a state of Republican-induced rage, security forced women to toss out their menstrual products upon entering the gallery.
Guns, on the other hand, were still permissible. Noted a live blog from the event,
People with concealed handgun licenses are allowed to bypass long lines to enter the Gallery through the expedited CHL entrance, and per DPS, if a person has a CHL, they can take their gun into the gallery.
Ironically, these restrictions were implemented by the GOP to avoid a "circus atmosphere" in the Capitol.
The most disgusting and tasteless tweet of the night came after the voting decision was made, posted by conservative blogger Erick Erickson.
The link, of course, leads to this site:
Throughout the hearing, Texas Democrats kept stressing that this bill was about women's health. But Erickson suggests–rather disturbingly–that it isn't nearly that wholesome.
These debates have shown us that something as serious, emotional, and life-changing as a woman's very personal decision to terminate pregnancy–which is affected by so many other economic and educational issues–has been reduced by politics to a petty competition between progressives and conservatives, wherein there is a winner and a loser, and conservatives will pull out all the cheap and degrading shots possible to stay on top. Even if it means that women may be forced to resort to unsafe abortions and die as a result. Abortion debates navigated by men make women dispensable pawns in a political battle. And what's worse is that they are mocked for it–by tweets like Erickson's, by stripping them of rights and menstrual pads simultaneously, and by relentlessly calling their capacity for rational and complex thought into question in pushing for medically inaccurate, religiously guided, and ultimately outdated legislation.
When the final voting concluded and the Senate made its closing statements, pro-choicers aptly shouted from outside the chambers, "Shame! Shame! Shame!" This entire ordeal has been nothing but a shameful insult to the intelligence and value of women and their lives.
Democrats intend to continue challenging the bill's constitutionality after it becomes official by filing a federal lawsuit. These recent events in Texas have built up a strong community against anti-choice legislation and the message is clear: The state's decisions do not accurately represent its people, and Texas women are tired of these restrictive stunts against their freedom and autonomy.
As Planned Parenthood President Cecile Richards explained,
In the long run, all [anti-choicers] have done is built a committed group of people across this state who are outraged about the treatment of women and the lengths to which this Legislature will go to take women's health care away.
Written by Marinda Valenti
Follow her on Twitter!