Lady Gaga has evidently plummeted to new lows with the leak of her new track Burqa. While her appropriation of the burqa pre-dates the leak, the song has proven to be yet another degrading, exotification of Muslim women enforcing the "saviour" attitude that is so popular in the West, which views Muslim women of all nationalities as outsiders who need to be liberated from their supposed perpetual prison.
As a Muslim living in North America, I couldn't function in just a hijab, the most covert of the Muslim garbs. People threw rocks at me, asked me ignorant/offensive questions like why I chose to subject myself to an "inherently patriarchal religion," called me a terrorist, and so many more incidences I can't even keep track. Yet it's totally cool to play dress-up with hair and face coverings as long as it doesn't have anything to do with an actual Muslim? Newsflash: It's not a costume for you to wear, it's not another one of your attention-seeking meat/frog dresses, it's a symbol of my religion NOT a fashion statement. 
 While it hasn't been officially confirmed that Burqa is a leak from her upcoming album, Lady Gaga was reportedly posting on littlemonsters.com requesting fans report links to the track because it was an unfinished demo. She also tweeted a reference to the song in October:
Lady Gaga isn't the only one unable to comprehend how offensive appropriating someone's cultural/religious custom is. Soon after the leak, Twitter was flooded with fans posting pictures of themselves with towels, blankets and shirts wrapped around their faces with the hashtag #burqaswag: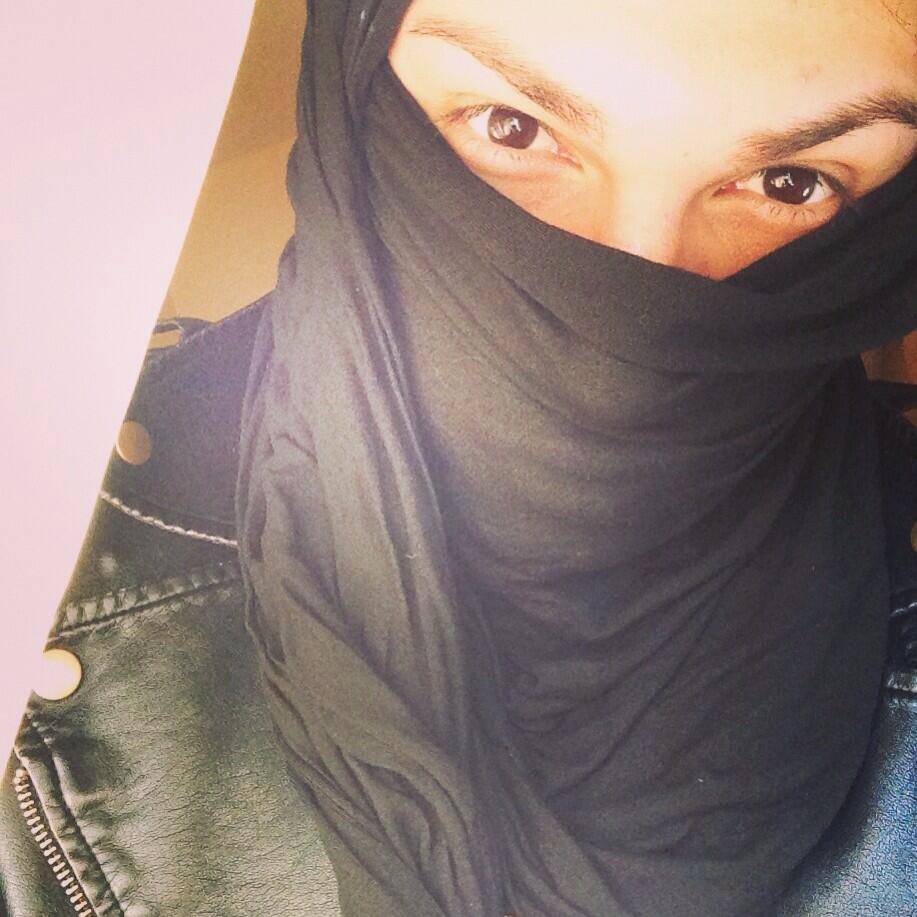 Adam Abboud, one of the many voices within the Muslim community condemning Lady Gaga and her fans, created the tumblr Racist Little Monsters in response to #burqaswag. "Essentially, the blog and the format it follows responds to Lady Gaga and her numerous non-Muslim Gaga fans that chose to drape themselves catering to fetish and pop culture without understanding the political and social consequences of doing so." Adam also emphasized the undertones of violence stemming from within Lady Gaga's burqa controversy:
"Lady Gaga's obsession with the burqa is not coincidental regarding the current foreign policy of the United States; her co-opting of the burqa feeds into a consuming Western stomach, hungry for images of oppressed Muslim women that need saving. These constructions function within the current framework of the war on terror, and produce complicit populations that allow occupation and war in the name of feminism. Historically, images of draped women helped justify occupations like those of Iraq and Afghanistan after the wars were branded as missions to liberate Muslim women."
My last Feminspire piece was about exactly that — the result of occupations like Iraq and Afghanistan, which, as Adam also pointed out, has "ironically devastated the status of women." Despite all that has been said about the song, there was one line that didn't make me want to vomit all over my laptop: "I'm not a wandering slave I am a woman of choice, my veil is protection for the gorgeousness of my face." The sexualization of Muslim women can be viewed as an attempt to have Muslim women recognized as powerful, independent women — women who are inherently sexual, just like non-Muslim women are perceived to be.
That's a major stretch however, and Ilana Alazzeh, a prominent voice in the Muslim feminist community, disagrees with this perspective: "Muslim women can speak for themselves. This is white savior syndrome; we need allies to help raise our collective voices, not capitalize on oppressing them." Ilana's point about capitalizing on the oppressive image of Muslim women is extremely important, considering that Lady Gaga is profiting from appropriating Muslim garb: from the degrading trend pioneered by her fans consisting of a game of dress-up where adorning Muslim garb is seen as some sort of hilarious joke, and from exotifying and sexualizing Muslim women in the song itself. Ilana continues:
"The sexualization comes from this need to colonize Muslim women and their wombs — to invade and purify. It's why the Western man hates the hijab and covering, because it's an overt way of saying 'My body is for me' and 'I'll choose you if I want you,' which is reversing the gaze in such a way that women are typically inaccessible. Liberating Muslim women from hijab/burqa is a centuries old concept and it was one of the reasons why Europe colonized the Middle East, or so they say. So, sexualizing a woman in burqa/hijab is the easiest way to demean, dehumanize, and take away power from women who only want to share their sexuality with a few, or just don't want to be defined by their sexuality at all. It will sell, and it will seem rebellious. It's not like rap, which comes from the streets speaking from the heart, and debunks the status quo; this type of music is about reinforcing the status quo. It's about non-Muslim women capitalizing on speaking for and over Muslim women's voices."
Pointing out that Muslim women cover in various ways in order to avoid being sexualized epitomizes exactly why the song alone is offensive. Muslim women who choose to cover, whether it be a hijab, niqab or burqa, do so in order to avoid the superficial prison built within patriarchal culture where women are only worth their sexual value. The song attempts to strip Muslim women of this rejection of the male gaze, completely ignoring the outcry of Muslim women who demand not to be sexualized. The lyrics "Do you wanna see me naked, lover? Do you wanna peak underneath the cover?" are extremely invasive to the female Muslim community, forcing Muslim women to be fetishized and exotified against their will.
Pop star Selena Gomez was also recently called out for her appropriation of Indian culture. Selena's appropriation, while offensive, still doesn't quite match up to what Lady Gaga is doing. While Selena Gomez appropriated certain cultural characteristics like Indian dance and fashion for her video, Lady Gaga took it one step further and made sweeping statements against the voices of actual Muslim woman.
Then there's M.I.A., another musician who depicted a different culture in the music video for her song Bad Girls. However, her song made a tribute to Arab culture, and it had great (although at times controversial) reception from the Muslim feminist community. M.I.A. depicts Arab culture — hated and demonized by Western media — as the exciting and unique culture it actually is.
M.I.A. includes Muslim women wearing niqabs/hijabs in her video, yet it is entirely different from Lady Gaga sporting it as a costume. For one, M.I.A. is a woman of colour, herself othered by Western society like Muslim women are. Secondly, M.I.A.'s video was in solidarity with the Women to Drive movement, a criticism of the fact Saudi women are denied the right to drive, rural areas being the only exception. M.I.A. lent her voice and political activism to Muslim women instead of screaming against them.
Ilana commented on this contrast, "When M.I.A. wore the niqab, she got a lot of hate. When Lady Gaga tosses around the burqa it seems 'radical.' M.I.A. has a history of not saying things for a buck and being raw and true to her background, lyrics and culture. It's not her culture, true, but there are a lot of Desis in the Middle East, especially Sri Lankans — their nationality is synonymous with servant in many parts of the Arab world, but M.I.A is not above capitalizing on being raw and on the edge with embracing the Arab — the hated Arab. For better or for worse, her culture — Sri Lankan culture — is tied with Arab culture. The song Burqa is simply an anthem of colonization."
Writer Dina Dabbous also analyzed Bad Girls in defense of the criticism it was receiving, "If she's being accused of stereotyping, then she's turning the oriental fantasy on its head when she has Arabian women dressed in khaki styled — though still Arabian — dress or gear, toting guns and strutting their stuff with a swagger unknown to the conservative female society that has women closed off from the male gaze. M.I.A's girls are a far-cry from the harem-veiled subversive mysterious women of the oriental fantasy in their floaty feminine veils." Dina's point further emphasizes the difference between M.I.A.'s Bad Girls and Lady Gaga's Burqa, as Lady Gaga simply reinforced the oriental fantasy that Dina is referring to.
Outside of Lady Gaga's appropriation, the burqa itself is a touchy subject even among Muslims, as many deem it to be oppressive while others assert that it's a choice. The burqa cannot be viewed entirely as a choice or entirely as a symbol of oppression; the politics surrounding the burqa are not that black-and-white. It would be more precise to acknowledge that while in some places it symbolizes oppression — like the blue burqa above that is the signature of Taliban reign in Afghanistan — it is also a symbol of freedom from patriarchal culture and the male gaze.
However, discussing one side of the burqa debate does not have to come at the cost of the other — can we not just address that it symbolizes both oppression and choice? It's fair to say, given the content of the song Burqa, that Lady Gaga is entirely clueless to these discussions of the burqa within Muslim cultures and communities. She is only deprecating the burqa and what it symbolizes for both sides, screaming over the voices of the Muslim women who don't want to be sexualized and against the voices of Muslim women who live in oppressive environments where the burqa is a physical symbol of that oppression.
So, Lady Gaga and fans, STOP appropriating the cultural/religious garb of Muslim women, and stop thinking you are some sort of ally to the Muslim feminist community by sticking in one lyric about being a woman of choice. Better yet, just eliminate the song off of the album altogether, because every second it continues to be promoted you are trivializing the voices of Muslim women everywhere.
Written by McKayla Reilly
Eat with her, tweet with her, or contact her!